A Moment In Time
watercolor on paper
I was on a yacht in Marina Del Ray, California one evening. The stunning amber gold sky, with the waning sunlight glowing on the water, moved me to create this painting.
I began this painting in the Topanga Canyon Gallery. I was just finishing the sky when a father and his young son came into the gallery while I was painting. The five year old wanted to know why I was painting this particular piece. I gave him a few answers that were unacceptable to him. I pondered the question again and finally told him that I was painting a moment in time. Thus the name…
The Barrel Room
watercolor on paper
I was at an event in a local winery. While enjoying the wine and the company I was with, I noticed a glow across the large darkened room. I had to see what was in the light. Hidden from sight was the barrel room…
Nephalococygia
watercolor on paper
Ancient Greek word for finding shapes in cloudes.
On a beautiful pre-storm day, I was inspired to paint these magnificent clouds. When it was almost complete, I saw images in the clouds. Do you see them?
Calla Lilly
watercolor on paper
20" x 14"
This particular Calla Lilly was so large and beautiful, very shapely. It was a bright spot in the middle of my very green garden.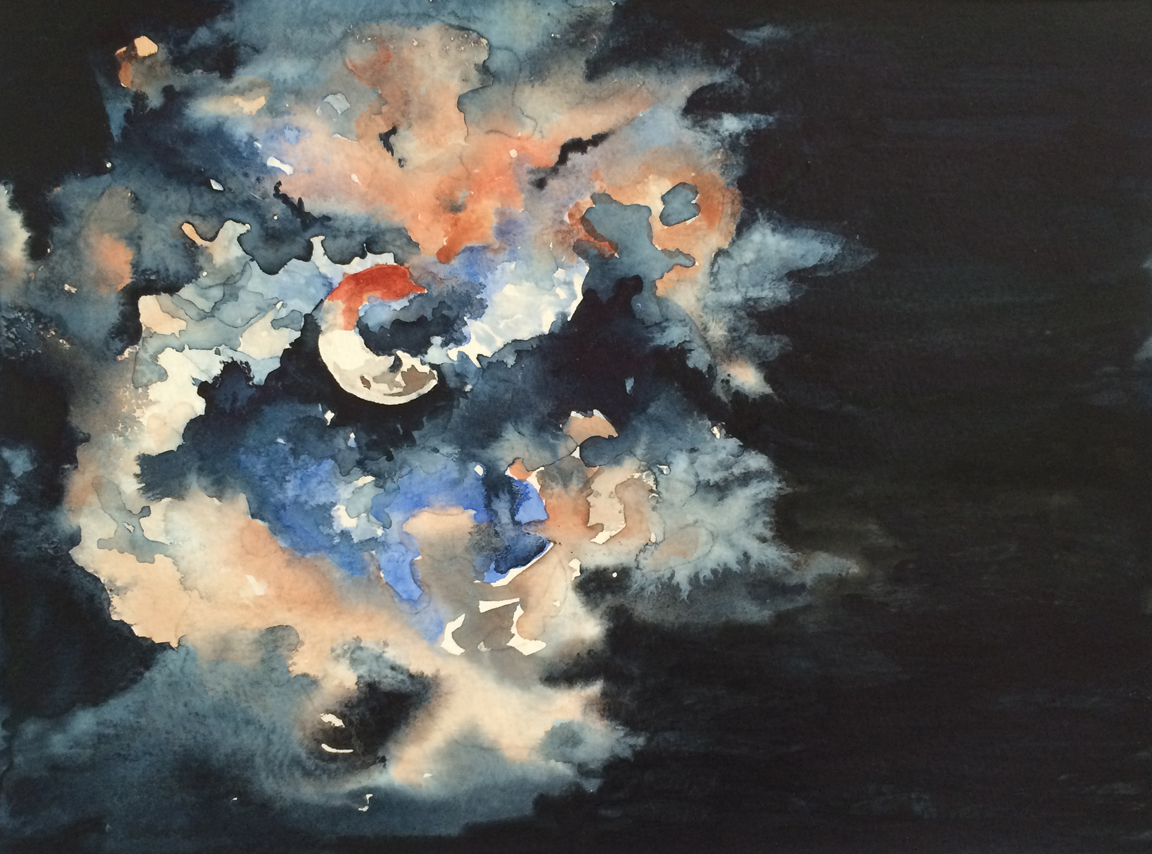 Blood Moon
watercolor on paper
The glow and colors of the blood moon were so striking that I needed to memorialize them,
Watching Over Us
watercolor on paper
Los Angeles freeway at night, beautiful and difficult.
Memories of Love
16" x 24" Watercolor on Paper
Rain On The Window
watercolor on paper framed size 21" x 27"
My sense of this painting is raindrops on an airplane window looking over an abstract landscape. The rest of the intrepretation is up to you.
Morning Surprise
watercolor on paper
I came out of the house one morning and this beautiful iris had bloomed.
Respite From Darkness
watercolor on paper
A beautiful small flower so delightful to rest your eyes upon, surrounded by the deep purple of plant.
Trepidation
watercolor
20' x 16"
lost in a burnt forest full of smoke or mist, you are trying to find a way out. It has a terrifying beauty.
Anticipation
I had to wait for a very long time to see the beautiful flower, but the slow growing bud was very beautiful too. Matilija Poppy
Iris
watercolor on paper
Inspired by a beautiful iris that bloomed in my front yard, I created this watercolor painting as a permanent memory.
The Conversation
watercolor on paper
Poland
Aaron Commission
watercolor on paper
Two adorable pets
Nuttall Woodpecker
Created this painting before the dead tree needed to be removed. I waited until the babies had flown away.
Gene in the Sky with Diamonds
This was the first portrait of my father following his death. It took me three years to do this. I believe it captures his laughing eyes. I think he would have loved it.
Yosemite Circa 1970
In my youth I often backpacked in Yosemite and this was based on one of my favorite memories.
Making Memories
watercolor on paper
commission
snow scene with 6 grandchildren and a chicken coop!
Night Walk
11" x 9"
Watercolor on Paper
In the darkness, the mystery of my walks just before dawn trigger my imagination.
Watching
Watching
11" x 9"
watercolor on paper
I love this moose.
Carefree
watercolor on paper
tabletop size
a sweet family walking together
Daylilly
watercolor and ink on paper
Fur Elise
watercolor, smoke on paper
Illusion (smoke & mirror)
watercolor, smoked and burned paper with stainless steel inset
Sunset on Water
watercolor on handmade paper
Moxi
watercolor
12" x 9"
under the kitchen table
Inspiration Birchfield
Watercolor, pastel, chalk, ink on stitched paper.
Framed Dimensions: 23.75" x 29.5" x 2.3"
The paper is stitched together on a sewing machine, strips on top, bottom and sides. I left the hanging threads. This landscape is made from ink, watercolor, and pastel. It shows a very hot day with landscape appearing to be shimmering and moving in the heat. Inspired by Charles Burchfield.
(mm1058lnd)
Paintings